English version here.
Vulture Forest / "Some Things Stay Broken" – Microtone Records MTR22 / Release den 1 Marts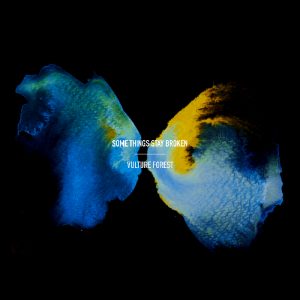 Den dansk / svensk / slovensk / sydafrikanske gruppe Vulture Forest er ude med deres andet album d. 1 marts.
Om deres debut album fra 2017 blev der bl.a. sagt: "En subtil och betagande skiva som ger mersmak" (Lira Musikmagasin), "[…] hvor musikernes egoer træder tilbage og i stedet smelter sammen til et kollektivt hele" (JazzNyt, Niels Overgaard). To år efter udgivelsen er det stadig i rotation på P8. Vulture Forest's andet album Some Things Stay Broken fra Microtone Records er ude på CD, Vinyl og streamingtjenester d. 1 marts (singlen Simple As Can Be kan streames som pre-release på Apple Music fra d. 15 februar).
Omgivelserne omkring studiet ved Kullen har skabt en stemning i musikken, der farvet af Nordsøen er evigt skiftende mellem det fredfyldte og det rå og ubeherskede. Some Things Stay Broken fremmaner et billede af denne konstant skiftende natur. I titelnummeret svæver en kontrapunktisk melodi roligt rundt i ring, man venter ængsteligt på en forløsning i melodien, som aldrig kommer, som et stille hav man ikke kan stole på. Uroen bygger op til de skæve skurretoner i free-nummeret Impro #5 for til sidst efter stormen at falde tilbage til Simple As Can Be's enkle melodi og akkorder.
Gruppen er blevet booket til Vinterjazz og vil derudover også spille en række koncerter i Basel og Amsterdam, med materialet fra Some Things Stay Broken, hvor man kan købe vinyler og cd'er før release. Til sommer vender de tilbage til København, hvor de spiller under Copenhagen Jazzfestival for tredje år i træk med planer om en større turné der også omfatter Sverige og Slovenien.
Medvirkende: Kristoffer Vejslev (guitar/kompositioner), James McClure (trumpet), Luka Benčič (bas), Love Ekenberg (trommer)
För mer info vänligen kontakta:
vultureforestmusic@gmail.com 
Facebook: https://www.facebook.com/vultureforest/
---
Pressbilder (klicka på bilderna för förstoring):
Foto: Dan Persson (anges vid publicering)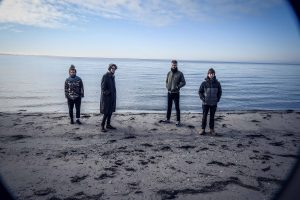 Fr v: James McClure, Kristoffer Vejslev, Love Ekenberg, Luka Benčič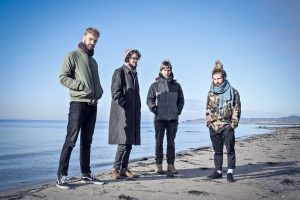 Fr v: Love Ekenberg, Kristoffer Vejslev, Luka Benčič, James McClure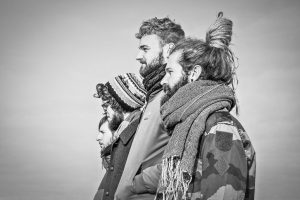 Fr v: Luka Benčič, Kristoffer Vejslev, Love Ekenberg, James McClure
---
Recensioner av debutalbumet "Vulture Forest":
"For most of Vulture Forest's new self-titled album, you'll probably wonder where exactly the band falls on the jazz spectrum. In my view, the quartet crafts ambient jazz so beautiful that it's sometimes on the verge of resembling post-rock with the addition of trumpet. I mean this in the best way possible, too — every moment of Vulture Forest is an alluring blend of emotional atmospheres, sometimes leaning toward melancholia while mostly remaining at a level of awing tranquility. The band must have truly mastered the art of patience to so delicately unravel these compositions across a completely still sonic plane. If Miles Davis enlisted a guitarist for Kind of Blue and slowed down the final tapes to a delicate crawl, it'd probably sound a lot like Vulture Forest."
– heavyblogisheavy.com
"There are times on Vulture Forest when the Amsterdam-based quartet seem ready to break into a Nordic jazz tranquility.  In fact, opening track "Flere Lysår Væk" gives every indication of it with its initial volley of melodic serenity.  But gradually the trio settles into a more general style of European Jazz, where a certain cinematic melodicism is achieved in a rhythmic environment that sits on the periphery of swing and the attitude of cool blues." – Birdistheworm.com
"Kvartetten Vulture Forest samlar medlemmar från Danmark, Slovenien, Sverige och Sydafrika och spelar modern europeisk jazz i sin egen stil. De fyra träffades under sina studier på Konservatoriet i Amsterdam där de fortsatt har sin bas. Plattan är inspelad där och mixad i Sverige. Jazz med ett internationellt avtryck med andra ord.
Musiken är baserad på luftigt samspel och växlar mellan tydlighet och antydningar, lycka och melankoli, oro och stillhet. Suggestiv musik som jag som lyssnare efter ett par genomspelningar gärna dras in i och hittar nya perspektiv och uttryck. Måhända är det ett album som kräver att lyssnaren är på ett visst humör.
Kvartettens debutalbum är på sätt och vis en symbol för demokrati, där samtliga musiker ger och tar och bidrar medvetet och omedvetet till en helhet som är större än individen. En subtil och betagande skiva som ger mersmak."
– Lira Musikmagasin
"Modal jazz med meditativa inslag, avspänd melodisk med en melankolisk, drömlik grundton sätts på prov och utmanas. Allt material är komponerat av gitarristen Kristoffer Vejslev och präglas av en utvecklad känsla för de små nyansernas betydelse för att skapa både dynamik och spänst. God hjälp har han av trumpetaren James McClure som har en ren, krispig, lyrisk ton som varieras i intensitet i långa raka melodiska slingor. Kompet är intimt och lyhört där trumslagaren Love Ekenberg och basisten Luka Benčič både expanderar och komprimerar spelplanen och ger fäste för soloinpassen. En lovande debutplatta som ger mersmak."
– Orkesterjournalen
"Den danske guitarist Kristoffer Vejslev studerer på konservatoriet i Amsterdam. Her har han dannet gruppen Vulture Forest sammen med sydafrikanske James McClure på trompet, slovenske Luka Benčič på bas og svenske Love Ekenberg på trommer. Det er ikke kun besætningen der har et internationalt snit. Musikken har også en international karakter. Det er flydende, modal og ambient jazz. Filmisk jazz, hvor musikernes egoer træder tilbage og i stedet smelter sammen til et kollektivt hele. Hvis man f.eks. godt kan lide Jakob Bro eller Jakob Sørensen er man havnet det rette sted. Pladen er sammenhængende og fungerer godt."
– Jazznyt
"Is it possible to make a calm album, close to being dull, but still keeping the listener's attention with every single note? The band Vulture Forest, lead by Danish guitar player Kristoffer Vejslev featuring (alumni) students from the Conservatory of Amsterdam, has done it. On their debut, called Vulture Forest, Vejslev builds great tension with his quartet within seven original songs. The group, consisting of Luka Benčič (bass), Love Ekenberg (drums) and James McClure (trumpet), are respectively from Slovenia, Sweden and South Africa. All have attentively listened to Miles Davis during his modal era. Vulture Forest doesn't copy though. The line-up is different than on for example Miles' Kind of Blue, but the atmosphere is similar. A difference with Davis' masterpiece is that Vulture Forest contains more meditative elements and is considerably more melancholic, dreamy and sounds more European, compared to the Americans. You rather find yourself in the endless snow-covered woods of Sweden or Norway than in the US. Oddly enough the controlled instrument management keeps reminding of Miles." 
– Hans Invernizzi, Jazzflits.nl
---
Management: Dan Persson dan_persson@me.com